This cute little yellow duck, enhance the appearance of your bicycle. The duck features a removable helmet that makes your little duck more special. There is a Built-in LED light that can be used as warning light, its not easy to ignore and ensure safe riding at night. It also acts as a horn when you pinch it the ducky. Its super easy to installation with included binding band which makes it suitable for most bicycles and bikes, fixing itself securely. There is no additional weight added to the handle bar as the duck is virtually weightless.
This can also be used in your car with the included base sticker

QUACK! I'M HUEY 🦆
Press me and I will illuminate, squeeze me and I will make a noise! Pedal faster and see my propeller whizz in the wind!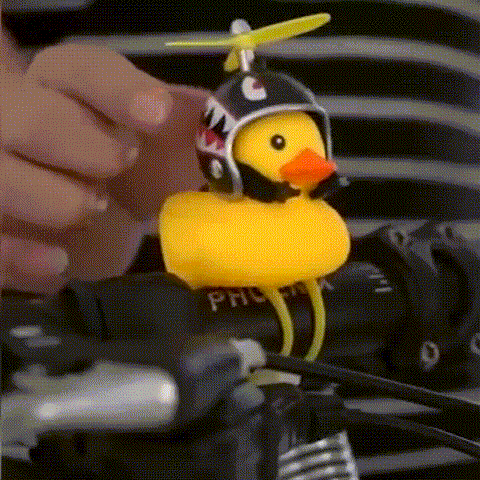 I come in 9 different styles to suit your mood or preference, and to keep your bike looking fresh for when you're cruising down the street.
DOWN TO DUCK? 🦆
What's my job? Well, not only will I keep your style fresh, I will keep you safe on those darker rides around your area!
– Need a pedestrian to move?
Squeeze me!
– Hard to see in the dark?
Press me!
– Want to impress everyone you pass?
Own a Huey!
What the duck are you waiting for? Make cycling fun again whilst staying safe at the same time! How could you resist not getting your very own Huey?!
Processing and Shipping
Processing time: Order verification, quality check, and packaging. All orders are sent to the fulfillment center for dispatch within 48 hours after the order is placed.
Shipping time: This refers to the time and it takes for items to be shipped from our fulfillment center to the destination. (Please note due to corona your our shipping times have slightly increased)
Standard Shipping (12-20 days)
If there are no special requirement, we'll send by standard shipping method. For other shipping methods, Please send us emails : [email protected]